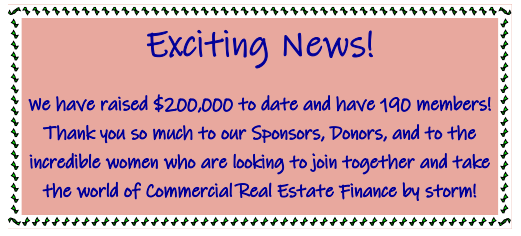 Save the Date!
Our Fall Events are right around the corner. Be on the lookout for an invitation toceither our D.C. or Atlanta events. The D.C. event will be at Capital View at 400 oncWednesday, September 26th, and the Atlanta event will be at 433 Bishop on Thursday, September 27th. Both events will go from 6:00 to 9:00 p.m. There will be a silent auction held benefitting RENEW and our philanthropic partners. Cocktails and hors d'oeuvres will be served as well. We hope to see you there!
Spring Economic Events

Three luncheons were held in Washington, D.C., Charlotte and Atlanta. Each one began with an economic overview and then ended with the attendees participating in an activity benefitting a local charity. Christine Cooper and Galina Alexeenko from CoStar were on hand to let us know what was happening with our country's economy and how it is affecting the real estate market as well. Admission to the luncheons was a package of diapers to be donated to a couple of the charities serving children or sent on to a local shelter.
Washington, D.C. attendees assembled meal kits according to two tasty recipes for chicken and salmon dishes using fresh meats, vegetables and herbs and distributed them to nine families supported by Bridges of Independence. Carlin Anderson of Bridges to Independence attended the luncheon and was overwhelmed by what we were able to provide. In addition to the meal kits and diapers, RENEW also donated slow cookers and gift cards for a grocery store nearby.
In Charlotte, the local charity being served was Charlotte Family Housing. Elizabeth Trotman and Elizabeth Kurtz from Charlotte Family Housing attended the luncheon and spoke to attendees about the great services they provide to both individuals and families in the Charlotte area. RENEW was able to donate diapers and vacuums along with a monetary gift.
Atlanta had a representative from Serenity's Steps come and share with attendees about the charity and how it serves to help former sex workers or sexually exploited women change their lives. RENEW presented Serenity's Steps with Amazon gift cards to use toward books and supplies to help recipients get their GEDs and candy for their annual Trunk Or Treat event. The diapers collected from attendees were taken to a local shelter.
Spring Economic Events, cont.
While there was not a luncheon in Miami, board members Sharon Plattner and Nisha Bhatia were able to visit PACE, a center that provides services to girls from the ages of 11-17 who have suffered trauma and consequently are failing in school or at risk of becoming involved in the Juvenile Justice system. RENEW was able to provide a monetary donation to PACE to provide items for a boutique they have for the girls to both reward them and teach them how to make wise purchase choices.
Thank you to everyone who came out and helped us make such a tremendous impact!

SCHOLARSHIP/PHILANTHROPY
Thanks to our fantastic sponsors and donors, RENEW was able to award five scholarships for $5,000 each! Congratulations to our winners:
* Jenn Barenbaum, an MBA candidate at UNC Chapel Hill
* Areana Goodrum, a Senior at Virginia Tech majoring in Real Estate and Finance
* Hanin Khasru, an MBA candidate at UNC Chapel Hill
* Alexandra Murphy, a Junior at UNC Chapel Hill majoring in Business and Finance
* Macy Trizonis, a Senior at the University of Florida majoring in Real Estate and Finance.
For more information or to apply for the next award, please contact Jessica Ramsey at jhansel@radco.us or Sheri Thompson at sheri.thompson@pgim.com. Application criteria is detailed at www.renewcre.com/scholarship